Yosemite, May and October 2017
Ansel Adams' Yosemite: The Art of Seeing
May 9 – 13 or October 10 – 14, 2017
Film or Digital
Overview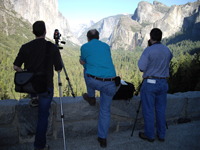 During his career, Ansel Adams photographed many places, but it was to his beloved Yosemite that he returned year after year and where he made his first expressive images.
Let Alan Ross show you Ansel's Yosemite and help you take your photography to new levels of expression, sharing the knowledge and experience he gained by teaching and working alongside the master.
No matter whether you work with film or digital, large or small format, this workshop will help you advance your own photographic vision and technique.  You will learn to isolate and evaluate the elements of a scene, translate the literal to the expressive, and use optics and exposure to best effect.
Visits to many of Ansel's favorite locations in Yosemite will provide inspiration and insight, with demonstrations, practice sessions and critique laying the foundation for individual photographic advancement.
What You'll Learn
Among the important topics covered during each intensive week:
How equipment choice – digital or film – impacts your final image
Choosing a lens and using it well
Optics and exposure
Filters—when and how to use them
Evaluating a scene and managing the details
Tonality
Translating what's in front of you to what's in your mind's eye
Preparing the image for printing
Printing and presentation–bringing your vision to life on paper
Evenings will be spent on group and individual critique sessions, printing demonstrations, and engaging discussions about identifying and expressing personal vision.
A specially designed hybrid darkroom will be available for developing film, scanning negatives, and downloading and processing digital files.
By the end of the workshop, you will have the tools and methodology you need to respond to your vision with confidence.
Choosing Your Session
In May, it's all about the water, the ferns and the dogwood blossoms. The high country is a question mark, depending on whether Tioga Pass has opened for the season, and whether the Glacier Point road is open. You'll spend plenty of time streamside as well as searching for the grand vistas and intimate details of Yosemite Valley.
October is "anything can happen" time in Yosemite. The falls will likely be nearly dry and the Merced River low and quiet, but the opportunities will still abound for everything from details to spectacular vistas. A day trip to the high country of Tioga Pass and over to Lee Vining and Mono Lake is planned to take advantage of the fall color. PLEASE NOTE: Field sessions to the high country and/or Glacier Point involve being at elevations of 7,000 feet and higher. If you have any health conditions that would make spending time at elevation a risk, this is not the workshop for you.
Details
These workshops are offered through the Ansel Adams Gallery. Fee is $1,200 for the week and lodging has been reserved in the Park for workshop participants.
These workshops fill quickly. If you'd like to ensure your spot, register now.