Exploring the Scottish Landscape
A Classic Photo Adventure 
in the
Highlands of Scotland and Scottish Borders
September 5 – 13, 2022
This workshop is full.
The Scottish Highlands are a photographer's dream: rugged mountains and coastlines, deep blue lochs, storied villages, fabled castles, and a people rooted as much in ancient lore and tradition as they are modern customs.
Then a contrast. The rolling Border countryside has a softer feel, but is no less picturesque. Dotted with medieval abbeys and stately homes, the region was adored by the writer Walter Scott, who brought its dramatic ballads of border raids and battles to life.
This blend of culture, history, architecture and unparalleled scenery create the perfect backdrop for a unique photography adventure.
We'll enjoy 8 days and 9 nights exploring the scenic and remote Scottish countryside, based in two two contrasting locations, north and south of the "Highland Line." Every day and evening will be filled with photographic opportunities, with Alan at your side providing photographic know-how and a light-hearted approach to honing your photographic voice. Alan's wife, Julie, will be along to help make the experience both memorable and stress-free. Our itinerary is subject to change depending on weather and other factors, but is always planned for the best photographic opportunities.
Partners and spouses are welcome on a space-available basis and for an additional fee. They can join the photographers at any of the planned field sessions and outings, or they can choose to explore or relax on their own, enjoying the warmth of a fire at our accommodation (and perhaps a wee dram!).
The group will gather at the Monzie Estate north of Stirling. A charming and historic country house nestled within a large private estate, it is the perfect place to begin our adventure. It's also a five-minute walk to the historic Glenturret Distillery. We'll have the estate to ourselves with its extraordinary Highland landscape of glens, waterfalls and prehistoric stone circles all set around a fairy-tale castle. Accommodation is in a group of tastefully refurbished estate buildings, including the original water mill.
From Monzie, we'll spend several days exploring the Highland landscape, with excursions to well-known locations such as St Andrews –the famous seaside university town with its ruined cathedral – majestic Stirling Castle, Dunnottar Castle, Drummond Gardens, Scone Palace, and more remote Highland lochs and ancient monuments. During our stay, we'll enjoy a private dinner or two in Monzie Castle and an evening at the award-winning Glenturret distillery.
Then, the group will journey south into the historic Borders region of Scotland to stay for three nights in the pretty market town of Melrose, famous for its medieval ruined Abbey and the nearby fantasy home of novelist Walter Scott.
The Borderlands are deeply rooted in history and tradition. Anciently the northernmost outpost of the Roman Empire (with extraordinary relics of the era to match), the region has always been a frontier zone. The hills are dotted with medieval tower houses, once home to the 'reiver' families that later built (and still often inhabit) the lovely stately homes than dot the river valleys below.
Our travel partner for this adventure is the exceptional Clans and Castles…a small Scottish travel firm specializing in custom tours of Scotland, based on an insider's knowledge to create a one-of-a-kind and off-the-beaten path experience.
Due to the small and intimate nature of most lodging in the Highlands, our group is limited to a total of 12. Price is $6,250 for photographers/artists and $1,950 for spouses/partners. This pricing is based on 8 photography participants and 4 spouses. Additional spouses/partners can be accommodated on a space-available basis, but pricing will be higher.
Included:
Nine nights lodging and 8 full days of photographic adventure,  instruction and support
Various location and entrance fees
Most breakfasts and several dinners
Ground transportation
Local, knowledgeable and fun guides/drivers
Not Included:
Passport
Airfares and related taxes or fees
Meals not included above
Bottled water and all alcoholic beverages
Gratuities for guides and hotel staff
Personal expenses, services or purchases
Transportation to or from arrival/departure airports
Travel/cancellation insurance (available from your travel agent)
A deposit of $1,500 for photographers and $500 for partners is required to hold your spot. The balance is due no later than July 1, 2022 and may be made in multiple payments. If you need to cancel before July 1, $750 ($250 for partners) will be refunded. Because of the advance planning required, if the cancellation is within 60 days or less of the start of the workshop, we will not be able to refund any of the workshop fee.
On the unlikely chance that we need to cancel the workshop for any reason, we will endeavor to provide a full refund, contingent on refunds received from accommodation providers.
Rooms are based on single or double occupancy and all have private baths.
Other Information:
Bring layers of clothing and comfortable walking shoes. The weather in the Highlands is unpredictable, even in September. The chance of rain is always there, so waterproof gear for you and your camera is recommended.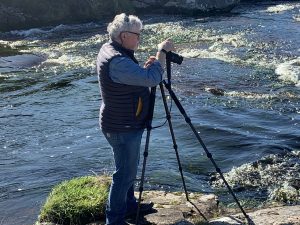 Any camera is welcome….from large format to DSLR to mirrorless to iPhone. For anyone working in film, portable processing tanks are recommended so that we can process film and review images by reading negatives as a positive image using the iPad. If you want help with post processing or other image review, a laptop is recommended, but not essential.
A month before our departure, you'll receive additional information to help you prepare for your adventure. From camera gear advice to packing suggestions, you'll get lots of guidance to ensure your trip is one of learning and imagemaking instead of problems and hassles.
See you in Scotland!