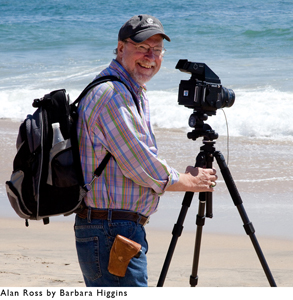 Alan Ross is an internationally respected master photographer and educator who worked side-by-side with Ansel Adams as his photographic assistant. He knows Adams' approach and technique perhaps better than any other photographer today.
As an artist, Alan is best known for his tonally exquisite black-and-white photographs of the American west; his photographs hang in collections and galleries around the world.
As a photographic educator, he specializes in helping photographers at any level, and using all formats and styles, realize and express their photographic vision.
Alan lives in visually captivating Santa Fe, where he pursues his own work, teaches one-on-one workshops in the art of seeing and master printing, and writes articles and blogs sharing his vast knowledge of the art and craft of photography.
He also continues to be the exclusive printer of the Yosemite Special Edition negatives, an assignment Adams selected him for personally in 1975. Alan makes each print by hand from Adams' original negatives using traditional darkroom techniques.
Galleries & Dealers
Andrew Smith Gallery, Tucson, AZ
Ansel Adams Gallery, Yosemite
Scott Nichols Gallery, San Francisco
Sun to Moon Gallery, Dallas
Weston Gallery, Carmel-by-the-Sea
Jeff Appel Art Dealer, St. Louis, MO
Collections
Hunter Museum of Art, Chattanooga TN; Exchange Bank, Chicago IL; Polaroid Corporation; Yale Museum of Art; K-Mart Corporation; Center for Creative Photography, Tucson AZ; AT&T; Western Electric Co.; Rochester Institute of Technology; Insulectro/Quintec Corp.; Seagate Technology; Bank of America; Pacific Telesis Corp.; San Francisco Museum of Modern Art; University of Michigan Museum of Art; Princeton University Art Museum, Kaiser Foundation; Museum of Fine Arts, Houston, Kalamazoo Museum of Art, Georgia O'Keeffe Museum, and other public and private collections.