For the ultimate photographic learning experience, join Alan Ross in his Santa Fe studio for a one or two-person workshop tailored specifically to your needs and aspirations.
These hands-on sessions can range from a one or two-day "crash course" covering a specific aspect of photography, to a five-day intensive that encompasses all the elements essential to the creation of an expressive image.
Working with Alan in advance of your session, you will craft the curriculum that's just right for you.
Whether you need help understanding exposure, working with a new camera or format, printing like a master, or clarifying your photographic voice, let Alan help you take your photography to new levels of expression at the pace that best suits you.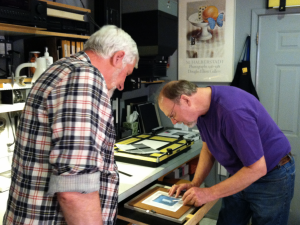 "Alan is a wonderful teacher whose passion for photography always shines through. His copious knowledge of technique, composition, work with light, and especially shadows, opened up a new dimension of photography for me and improved my skills, starting with the first lessons. And nowhere else have I learned as much about the pros and cons of the digital approach compared to analog. I also appreciate Alan's patience, concentration and precision at work, as well as his constantly honest and friendly critiques." ~ Daria B., Switzerland