Overview
For the ultimate photographic learning experience, join Alan Ross in his Santa Fe studio or in your own photographic workspace for a one or two-person workshop tailored specifically to your needs and aspirations.
These hands-on sessions can range from a one or two-day "crash course" covering a specific aspect of photography, to a five-day intensive that encompasses all the elements essential to the creation of an expressive image.
Working with Alan in advance of your session, you will craft the curriculum that's just right for you. Whether you need help understanding exposure, working with a new camera or format, printing like a master, or clarifying your photographic voice, let Alan help you take your photography to new levels of expression at the pace that best suits you.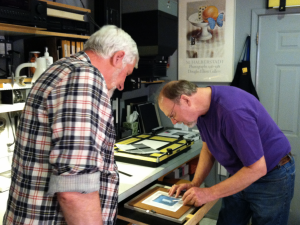 "Alan is a wonderful teacher whose passion for photography always shines through. His copious knowledge of technique, composition, work with light, and especially shadows, opened up a new dimension of photography for me and improved my skills, starting with the first lessons. I also appreciate Alan's patience, concentration and precision at work, as well as his constantly honest and friendly critiques." ~ Daria B., Switzerland
"Alan didn't just teach me how to. master the technical, but, more importantly, to strengthen my ability to 'see,' which crosses all formats within the photography medium." Chuck T., Tennessee
What You Might Learn
Techniques and photographic concepts you might cover during your private session with Alan:
Visualization and composition
Optics and exposure
Filters: when and how to use them
Camera technique
Capturing the most useful negative for taking the literal to the expressive
Extracting the vision from your image
Printing and presentation–preparing an image for printing and bringing your vision to life on paper, either digitally or traditionally
Traditional darkroom printing techniques essential for the creation of a tonally rich, nuanced silver print
Selective masking – "hands free" dodging and burning for complete tonal control in the darkroom
"After three days in the darkroom with you on master black-and-white printing, I walked away with a great amount of useful information and techniques. I left with the tools I needed and already have seen an improvement in my printing. You continue to encourage and motivate those of us who still love the darkroom. You are a wonderful teacher and your love of photography is in everything you do." Linda L., Colorado
Details
Duration: 1 to 5 days
Experience Level: Any level
Class Size: One or two
Dates: Subject to availability. Please contact Alan by email to find mutually available dates.
Location: Santa Fe, New Mexico. Alan is also available to work with you in your own photographic environment. Travel time and expenses may apply.
Lodging: Santa Fe has many choices, from camping to luxury hotels. We're happy to help you find accommodations that best suit your needs and fit your budget.
Fees: $750 per day for 1 – 2 days; $700 per day for 3 – 5 days. Deposit of 20% required to hold your dates. Balance is due at the end of your session.
Materials and Other Charges: For workshops that include printing and/or finishing, most people find it more convenient to work with the materials on hand in Alan's studio. These are billed at approximate MSRP on an as-used basis. A fuel reimbursement will also be applied for field session travel.
Cancellations: Changes sometimes do need to be made, so the deposit will be refunded in full if cancellation is made at 60 days or more prior to the scheduled workshop start, 50% between 30 and 59 days, and no refund with less than 30 days notice.
To arrange your custom workshop, please email Alan or call him at 505.466.2335. To pay your workshop deposit, just choose the workshop length from the menu below and add the deposit to the cart.