"Lost" Adams Plates – a brief update from my point of view.  My last newsletter of July 27 stressed that those of us close to Ansel did not believe the work was his.  In the ensuing time significant issues have come to light suggesting the work is really that of a Fresno, California photographer named Earl Brooks.  Having had the chance to make careful comparisons of three "Brooks" images to three of the Norsigian plates, I do not believe there can be any question that the photographs were made at the same time by the same photographer with the same camera.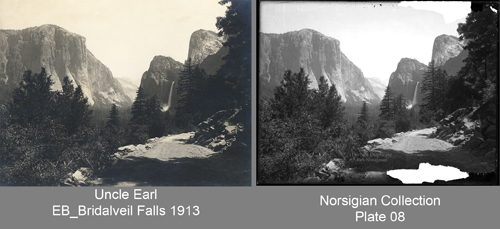 .
.
.
.
.
.
.
.
.
.
.
Not being daunted by all this, the "Team Norsigian" has steadfastly contested the position of the Ansel Adams Trust, myself, and others that their Adams claim is bogus – however they have added the following caveat as a condition of purchasing one of the "lost" images:
DISCLAIMER TO PURCHASER
THIS DARKROOM/DIGITAL PRINT (OR POSTER WHEN APPLICABLE), IS SOLD AS IS. THE ANSEL ADAMS PUBLISHING RIGHTS TRUST ("ADAMS TRUST") HAS NOT ENDORSED, CONDONED, SPONSORED, PARTICIPATED OR OTHERWISE APPROVED OF THE SALE OF THIS PRINT (POSTER WHEN APPLICABLE). FURTHER, THE ADAMS TRUST HAS NOT AUTHENTICATED THIS PRINT TO BE AN ORIGINAL, OR DERIVATIVE WORK OF ANSEL ADAMS OR ANYONE AFFILIATED WITH THE LATE ARTIST OR HIS TRUST.
THE EXPERT REPORT CITED ON THE "LOST NEGATIVES" WEBSITE (WWW.LOSTNEGATIVES.COM)
IS AN OPINION OF AUTHENTICITY AND IN NO WAY REPRESENTS A JUDICIALLY ENFORCEABLE OR GENERALLY ACCEPTED CERTIFICATE OR WARRANTY OF AUTHENTICITY. SELLER MAKES NO GUARANTEE AS TO THE AUTHENTICITY, OR PRESENT AND/OR FUTURE VALUE OF THE PRINT THAT YOU HAVE AGREED TO PURCHASE.
THE ENTIRE RISK AS TO THE QUALITY AND AUTHENTICITY OF THE PRINT DESCRIBED ABOVE IS WITH THE BUYER.
I DO AGREE (continue to purchasing)
I DO NOT AGREE
Um, gee.  Certifiable prints that I make from Ansels negatives are available from the Ansel Adams Gallery – and you don't even have to sign a release!  And they are $240, not $7500!