While I'm not much into New Year's resolutions, I'm giving myself a goal to get into the darkroom more this year, and I've been doing some digging around in my files of as-yet unprinted images. And there are quite a few! The digital age has allowed me to experiment with images of interest and I'm really looking forward to bringing them to life in silver.
I'm happy to share with you these three "new" images, and offer them at a discounted price before they become available to galleries and the general public. For purchasing information, simply click on each photo.
Clouds and Reflections, Glacier Bay, Alaska 1988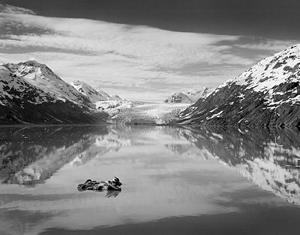 Ansel Adams was once asked if there was any place in the world he could visit to photograph, where would it be (besides the givens of Yosemite and the Sierra)? His answer was pretty immediate: "I'd like to go back to Alaska – but Scotland was pretty good, too." In 1988 I had the good fortune to be able to accompany my wife on (for her) a business cruise to Alaska and the Inside Passage. One of the highlights was an afternoon in Glacier Bay, hearing great chunks of ice break free from their hosts, sailing off into melting oblivion. Another amazing experience was visiting Sitka, where there seemed to be a bald eagle sitting on every tree top. Photographically, though, the massive glaciers and stillness of the bay were the visual highlights of the trip.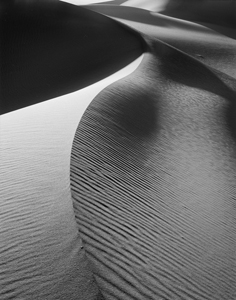 Dune Detail, Sunrise, Death Valley 2008
A morning trip to the dunes near Stovepipe Wells in Death Valley rarely leaves one unrewarded for the somewhat arduous trek out from the road.  Starting out at first light (so there is enough light to avoid rudely stepping on an innocent sidewinder…) it is usually no problem to get into the heart of the dunes before the sun peeks out over the crest of the Funeral Range to the east. This image was done during one of a number of workshops I have led in the Eastern Sierra and Death Valley.  Usually, I work with larger expanses of the landscape, but on this early May morning, there was nary a cloud anywhere – and I was feeling Ansel's lament of "there's nothing worse than a bald-headed sky." Working with my 4×5 camera, I decided to ignore the distance and morning haze, and concentrate on smaller views of the sun just illuminating abstracts of dune forms.  I just checked my negative file, and found that this was the only image I made on the dunes on that trip – but I like it!
Rocks, Pools and Reflections, Badwater, Death Valley 2001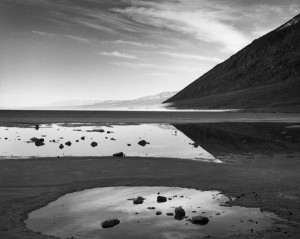 The quietness of Death Valley around sunrise always has an underlying tone of magic. During this late September workshop, we had just had a wonderful sunrise session at Zabriskie Point, overlooking Golden Canyon to the south and Manly Beacon to the west, with wonderful clouds adding to the occasion. When we had satisfied ourselves with that location, the morning was still too lovely to declare it time for breakfast, so we went south to Badwater.  At 282 feet below sea level, it is the lowest spot in North America, amazingly only about 85 air miles from 14,505-foot Mount Whitney to the west, the highest point in the United States outside of Alaska. The sun had not yet reached the valley floor in this spot so the view north was a wonder of quiet reflections. Sadly, this photograph can no longer be made.  A year or two later, the Park Service, in their efforts to protect the ecosystem in and around the area, built a raised dock around and over the pools, obscuring the natural lines in this image.
Each print is made personally by me according to current museum standards, signed, numbered, mounted and overmatted, and ready to frame. Image size is approximately 14 x 18, overmatted to 22 x 28.
My prints in this size normally start at $750, but I am offering these new prints for a limited time at 25% off base price, or $562.50, plus shipping.
The offer extends from now through Sunday, February 12th. You can contact me directly or use my brand-new shopping cart on the website.
I anticipate approximately two to four weeks for delivery to ensure the quality of each individual order. After this inaugural offering, print prices will return to full price.