There has been a lot of talk on the Internet lately about whether Ansel Adams would have embraced digital photography if he were alive today. From what I can tell, most everyone seems to think that he would be enjoying both "shooting digital" and HDR. Having been his full time photo assistant in Carmel from 1974 to 1979 with continued close association for the next five years until his death in 1984, I think I'd like to take this opportunity to weigh in with my own thoughts.
Let's imagine that it is in the early 1980's and that today's digital technology was available then. To ponder to what degree he might have "gone digital" it should be useful to consider his nature, and his interests in technology and photography.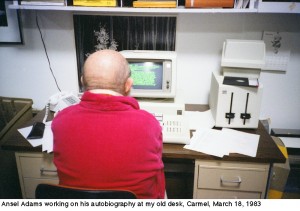 Even from his very early years, Ansel was fascinated by science and technology in general. But rather than being a modernist, he was very much a classicist. He never had any interest in anything that was "the rage." He had no interest in the craze or technology of motion pictures – except when Polaroid brought out their short-lived Polavision, and that was only because it was a Polaroid product. Upon its demise he had no interest in VCRs.
He was just about 80 years old when he bought his first television, but his personal involvement with the computer age began in the early 1980's when he began writing his autobiography on an IBM word processor. Even in his own work in photography, he never had the newest-best of anything – except when Hasselblad set him up with a new 500C camera and a few lenses. Even most of his large-format gear was a mix of old and used, but it served his purpose.
By the 1980's, digital technology was just starting to wend its way from research labs into practical use, and he was very enthusiastic about the quality the new scanning technology was giving to the reproductions in his new books. I have no doubt that he would have marveled at what Photoshop could offer – but I also think that this excitement would have been mostly directed at making repairs to damage or defects in his film archive. He had images from Alaska where mosquitoes had gotten into his 8×10 and were neatly silhouetted by having landed on the film before exposure! And then there were all the films damaged in his 1937 darkroom fire.
Color work didn't really interest him – most of his color imagery was either on assignment for Kodak or testing films for Polaroid. So he would have likely passed up on the pixel passion in that regard.
I think he would also very likely regard current capture technology to still fall something short of what he could do with film. I'm sure he would have a digital camera of some sort but regard it as an intriguing work-in-progress. I can easily see him using it for some portrait work but think it would be left neglected in the car if he encountered a Moonrise, Hernandez, or Clearing Winter Storm.
A single exposure on a piece of BW negative film can record a hugely greater dynamic range than current digital devices, and while HDR techniques can certainly make up for this, it requires an extra bit of techno-tinkering and doesn't offer the tangible gratification of holding a freshly developed sheet of 8×10 or 4×5 film. There is also nothing intrinsically permanent about a digital image.
In summary, I think Ansel would love scanning and Photoshop. He would have a fairly current digital camera and enjoy the immediacy and other advantages of pixel pictures. I think he would still prefer the look of a silver print over inkjet (as I still do), and that means film. He would keep a close eye on advances and have no qualms about working in the digital world if the technology fully met his own creative standards.