On February 25th, 2010, technology writer David Pogue posted a thought provoking commentary for the New York Times on the subject of Photoshop and Photography – What is a Photograph.  I replied with some thoughts of my own, and David graciously gave me his permission to quote him in my news letter and on my site. (I added the photos, they weren't in the original article).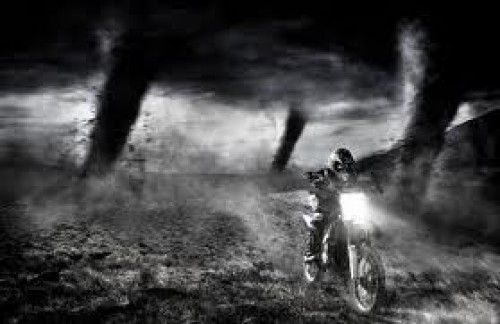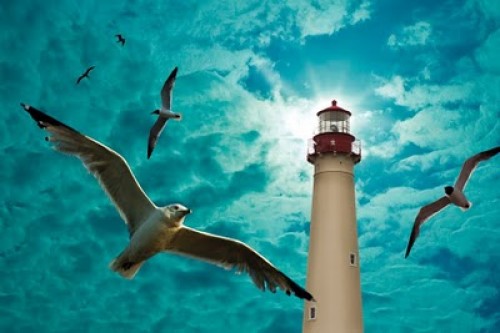 By DAVID POGUE
In the March issue of Popular Photography magazine, the editor's note, by Miriam Leuchter, is called "What Is a Photograph?"
You'd think that, after 73 years, a magazine called Popular Photography would have figured that out. (Ba-da-bump!)
Actually, though, the editorial is about the magazine's annual Reader's Photos Contest. This year, in two of the categories, the winners were what the magazine calls composites, and what I call Photoshop jobs.
One photo shows a motorcyclist being chased by a tornado; another shows a flock of seagulls wheeling around a lighthouse in amazingly photogenic formation. Neither scene ever actually existed as photographed.
Now, in my experience, photographers can be a vocal lot. And a lot of them weren't crazy about the idea of Photoshop jobs winning the contest.
I have to admit that when I saw the winners revealed in a previous issue, I was a bit taken aback, too. I mean, composition and timing are two key elements of a photographer's skill, right? If you don't have to worry about composition and timing, because you can always combine several photos or move things around later in Photoshop, then, well — what is a photograph?
The thing is, though, this isn't necessarily an open-and-shut case. Ms. Leuchter's editorial points out that photography has never been strictly a "capture reality" art form. It's never been limited to reproducing what the eye sees.
From the very beginning, photographers have set up their shots, posed people and adjusted brightness and contrast in the development process. So although you may think that some line has been crossed, it might not be so easy to specify exactly where that line sits.
Here's a list of things people do to and for photographs, ranging from the innocent and traditional to the dangerously artificial. If you were running a photography contest, at what point would you draw the line and say "That's not photography anymore?"
* You move the camera to get the best possible shot.
* You attach a lens that takes in a much wider or closer view than you would get with your eyes alone.
* You choose a shallow depth of field, providing that sharp-subject, blurry-background look of professional photos, which looks nothing like reality.
* You set up lights to illuminate a scene in a way that nature never intended.
* You bring in a professional crew to transform a model's skin, clothing and hair.
* You witness a spectacular event, and then ask the people involved to go back and re-enact what just happened so you can have your camera ready.
* In the darkroom, you "burn" and "dodge" to make certain parts of the photo brighter or darker.
* You bring the photo into Photoshop to remove red-eye. (After all, the red-eye wouldn't have existed if you hadn't taken the photo to begin with.)
* You bring the photo into Photoshop to make the colors "pop" a little more.
* You bring the photo into Photoshop to shift one element slightly for better composition.
* You combine two or more photographs of the identical scene, taken at different exposures, strictly to produce a better range of lights and darks (what's called "high dynamic range" photography).
* You combine two or more elements of different photos of the same scene, taken around the same time, simply to get them all in the frame at once (like the seagulls/lighthouse photo).
* You combine two or more elements of different photos that were taken at different times and places (like the motorcycle/tornado photo).
* You use a 3-D modeling program to create a photorealistic scene that never existed anywhere but in your imagination.
Of course, your answer may be something like, "It depends on the purpose of the photo." If you're a news photographer, you (and your audience) would probably be O.K. with tweaks to the color and contrast, but that's it. On the other hand, if you're an advertising photographer, you and your audience would probably have no problem with anything on the list above.
The question here is, what should the rules be for a photo competition?
Ms. Leuchter suggests that next year, they'll have a separate category for Photoshop creations. I think that's a good idea.
But meanwhile, we live in an age where Photoshop jobs are commonplace, reality TV shows dominate the airwaves, and news bites are taken out of context and manipulated. Maybe, these days, the question isn't "What is a photograph?"; it's "What is reality?"
******
Excellent analysis, Alan…. Thanks!
Hope you'll consider posting it in the Comments for my post at nytimes.com/pogue!
Hi Alan! Yes, please do quote or link.. I'd be honored!
–dp
—
David Pogue
Tech Columnist, The New York Times
www.davidpogue.com
www.missingmanuals.com
On 2/25/10 9:17 PM, "Alan Ross" <alan@rossimages.net> wrote:
Hello David,
First, I am a former photographic assistant to Ansel Adams, and have also been a fan of your Mac writing for years – and only recently heard about/subscribed to your NYT e-column.
You posed some very insightful issues relating to photography in general.  It has always been my philosophy that photography is no more bound by reality than the pen.  A bit ironically, that is precisely why my own from-the-heart work is in black-and-white.  By its very nature it is an abstraction of reality and gives me the freedom to express my feelings about what is (actually!) in front of my lens.  Photography, like the pen, can be a simple instrument of recording events; it can be haiku; John Muir or JK Rowling.  Jacob Riis.  A simple family record.
Photography is accessible and part of the daily lives of nearly everyone, and though I am dedicated to my own work with analog photography, there are, indeed, some first class fantasists working with "Photoshop jobs."  I think the reality here is that photography has fully become more than documentary, hobby, or straight imaging – it has forged its path into Art.
The digital world is what is most practical for the average person and virtually every professional.  A family takes vacation pictures and sees the result before they leave the scene.  A photojournalist can cover a breaking event and have the images on his editor's computer in mere minutes- from the other side of the world.  An advertising photographer no longer has to wait for film to come back from the lab, wondering the while whether he blew it or not – it's already been uploaded to the Art Director's agency before the guy walks out the door.  A big worry is permanence – no more shoe box full of tin-types under grandma's bed…
On the creative side, there is a difference between a magazine page and the Real Thing.  I have never seen an inkjet print that could match the depth of image in a traditional silver-print.  So, like the pen, we need to recognize the difference between use for fact and record, and art.
What is a photograph?  What is Art?  Is it Rembrandt or Magritte?  Dali or Manet?
Thank you for rattling my gray cells a bit.
Alan Ross
Addendum January 4, 2013
Technology has now made digital BW printing rival the richness of a traditional darkroom print – but it isn't one whit easier!  Digital color printing has always had an edge over most analog processes.  AR
You  can read the original article on the New York Times blog here